Mi-go
Feb 17, 2012 13:20:17 GMT -5
Post by Alhazred on Feb 17, 2012 13:20:17 GMT -5
Mi-go Edit History The Migo are a race of fungoid aliens from the planet Yuggoth. They are described as winged creatures with large claws and heads covered in antennae. The moon on their planet shows secret symbols which the Mi-go protect, mostly by hunting down anyone who writes the symbols down. The Mi-go are a scientifically and technologically advanced race.
The Mi-go can transport humans from Earth to Pluto (and beyond) and back again by removing the subject's brain and placing it into a "brain cylinder", which can be attached to external devices to allow it to see, hear, and speak.
The Mi-go previously worshipped the beings Yog-Sothoth, Nyarlathotep, and Shub-Niggurath, among others, although in newer works it is acknowledged that the Mi'Go are at war with the Elder Gods. Their moral system is completely alien, making them seem highly malicious from a human perspective.
One of the moons of Yuggoth holds designs that are sacred to the Mi-go. The symbols inscribed upon the moon are useful in various processes mentioned in the Necronomicon. It is said that transcriptions of these designs can be sensed by the Mi-go, and those possessing them shall be hunted down by the few remaining on earth
Hastur apparently despises the Mi-go. His cult, servants of "Him Who Is Not to be Named", are dedicated to hunting them down and exterminating the fungoid threat. However, in the original story a human ally of the Mi-go mentions "Him Who is not to be Named" in the list of honored entities along with Nyarlathotep and Shub-Niggurath.
Physical Characteristics "...Crustaceous bodies bearing vast pairs of dorsal fins or membraneous wings and several sets of articulate limbs, and with a sort of convoluted ellipsoid, covered with multitudes of very short antennae, where a head would ordinarily be." - H.P. Lovecraft
Summary EditThe Mi-go are large, pinkish, fungoid, crustacean-like entities the size of a man with a "convoluted ellipsoid" composed of pyramided, fleshy rings and covered in antennae where a head would normally be. According to two reports in the original short story, their bodies consist of a form of matter that does not occur naturally on Earth. Interestingly, they are capable of going into suspended animation until softened and reheated by the sun or some other source of heat. They are about 5 feet (1.5 m) long, and their crustacean-like bodies bear numerous sets of paired appendages. They also possess a pair of membranous bat-like wings which are used to fly through the "ether" of outer space (a pre-Einsteinian concept). The wings do not function well on Earth. Several other races in Lovecraft's Mythos have wings like these as well.
aliens.wikia.com/wiki/Mi-Go
The mi-go, or "fungi from yuggoth", are pinkish fungoid crustaceon-like organisms with wide, fan-like wings. It has six main limbs and a wrinkled head which can change color. The fungi communicate by rapidly changing the color of their heads, and project multicolored beams of light to communicate over long distances. Their are many subspecies of mi-go, and they all cooperate without difficulty. They skilled at body modification, often altering organs and body structures on a whim. Their mentality is very different from humanity's, and it is nearly impossible for humans to understand these creatures.
lovecraft.wikia.com/wiki/Mi-go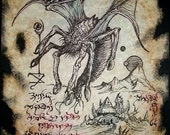 History on earth EditThe mi-go arrived on earth during the Jurassic period, fighting of attacks from the Elder Things and eventually settling in the northern hemisphere. They have gradually lost terrain, and today they inhabit the Andes, Himilayas, and Appalachians.
Behind the scenes Edit¡Mi-go control a vast interstellar empire, yuggoth (which seems to be pluto) being the largest base closest to earth.
¡Mi-go are not composed of ordinary matter, and can alter their bodies through prolonged effort. This, rather than ordinary evolution, may explain the many subspecies.
Appearances Edit¡The Whisperer in the Darkness, by H.P. Lovecraft (First Appearance)
¡At the Mountains of Madness, by H.P. Lovecraft
¡Through the Gates of the Silver Key, by H.P. Lovecraft
¡S. Peterson's Field Guide to Cthulhu Monsters, by Sandy Peterson
Sources Edit¡The Cthulhu Mythos Encyclopedia, 3rd. Ed., by Daniel Harms
¡S. Peterson's Field Guide to Cthulhu Monsters, by Sandy Peterson